SPARKLING. NATURAL. PÉT NAT.
An accident? Indeed. Oh, but what an amazing one at that! And the most natural form of sparkling wine as well. Lively and refreshing. Made from skin-fermented Riesling and Silvaner. Bottled mid-fermentation (I like to think of it as: in flagrante). The result: sparkling, savory, naturally cloudy. Quaffable. Delicious. Mouth-watering by the glass. Even better by the bottle. Whether you're mowing the lawn or grilling in the backyard: This pét nat is the perfect call!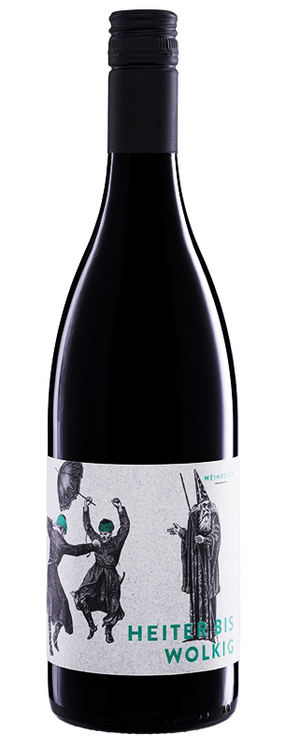 FRESH. WET. COOL.
Summer. Winter. Rain. Snow. Whatever the season. Crack a bottle of this red and you'll have sunshine in your pocket, not to mention your glass. When well chilled, this light Rheinhessen beauty will set your heart on fire. No coal from the Ruhr area here — pure limestone of Rheinhessen. Expected accumulation: At least two liters per person!

HONEST. AUTHENTIC. RAW.
Fine tannic structure, pleasant astringency, light phenolics — a Bacchanalian delight… People, numbers aren't everything! Are you after analysis, or just plain fun?! You'll find it here. 100 percent. No sugarcoating. Plenty of rough edges. Every vintage different. Every vintage good. Let's not beat around the bush: We drink Tacheles!

SOARING. SPELLBINDING. SPECIAL.
Freaks. Fanatics. Madmen. The monsters of the past. Reflections of the present. Aren't things that were once 'a bit askew' now completely normal? And things that were once normal, now quite simply askew? Can an orange wine be Burgundian? Can a Chardonnay taste like apple juice? We don't care. We're the same as we ever were: different!

PRECISE. AUTHENTIC. RESPECTFUL.
Life matters. Live it. Love it. Defy everything that prevents you. We stand up to you! 100% Riesling. Like in old times. Quite earlier. only better! No frills.
From hand to pot with handle. Aged in amphorae. Grapes, stems, juice. Original and unadulterated. Anything but uniformity. Simply origin. And the soul of the Riesling.
Defy the conventional and drink up!